THE HISTORY OF AP DESIGN

HOW IT ALL STARTED
Where It All Began
Graham Pike the founding member of A.P. Design came to South Africa in 1972 having had a good education & practical experience in England. Although Graham's main discipline is design he served an apprenticeship as a toolmaker from the age of fifteen.
Design, Draw & Manufacture
Thus Graham was able to design & draw equipment & then manufacture it himself, because of his hobbies, radio control & music he could help himself on electrical controls. Pneumatic circuit design came easily to him thus all disciplines of machine design were encompassed. When Graham came to South Africa it was to commission a cut to length line, it was not long before he decided to make South Africa his country of choice. With a few jobs in South Africa he gained experience with local conditions before venturing into business.
From his garage at home Graham started to design & manufacture decoilers for the spring industry & automatic riveting machines, many of which are still working today. As most entrepreneurs a single handed business generated too much pressure on home life & A.P. DESIGN was formed. The logo A.P came from a partnership between Asnin, an Israeli mechanical engineer and Pike, although the partnership was dissolved in the late seventies the name & logo has remained.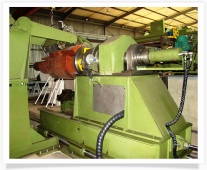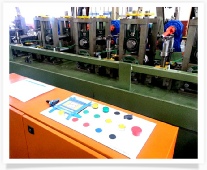 Cut to Length Lines
The companies' expertise in cut to length lines was gained from Graham's exposure to systems in England. The problem was the sophistication/cost of the British type of design did not suit local conditions at the lower end of the market, thus A.P. Design set about designing cost effective equipment on the basis of continual enhancement. Today A.P. Design has designs that cover a wide spectrum of that industry including coil to press feeds.
You make think that A.P. Design only does cut to length lines & press feed equipment but in fact this represents 60% of the output, the remaining 40% focuses on special purpose machinery, the list of which is too comprehensive, to mention a few, hydraulic presses, auto drilling, milling machines, auto assembly machines and packaging machines.
A.P. Design Today
A.P. Design has evolved to what it is today driven by enthusiasm, pride in its work and a concerted effort to follow its mission statement.
A.P Design is now headed up by:
• Graham Pike as the Technical Manager
• Brian Underwood Sales Manager
The First Machine
The first machine to be manufactured on A.P. Design's premises was a fully automatic machine for assembling circuit breaker parts for CBI or Heineman as it was then. The machine was fitted with a PLC, a new device that was viewed with some scepticism; it was also fitted with an HMI (Human Machine Interface) which was not invented at the time, A.P Design set about inventing one. That machine is still in service today but fitted with an up to date PLC and HMI.
The company started in one business unit out of four in Chloorkop, as machine tools were purchased and the staff compliment increased all of the four units was taken over. Then the complex was purchased by Graham in 1995.
As the name suggests design is the main forte, we all were designing on paper & drawing boards until Autodesk came along, we started on 2D packages and progressed to Autodesk Inventor a full 3D modelling & drawing package.