AP DESIGN LEADS IN
SOUTH AFRICA
First for South African Technology & Prowess
AP DESIGN is proud to announce a first for South African technology & prowess. AP DESIGN has been designing & manufacturing cut to length lines for nearly 40 years serving the metal industry.
The latest project being a cut to length line employing a flying shear designed & built for AEROTON STEEL. Although the concept of a flying shear is not new it is a first for South African technology, most people will relate to a flying shear as used on a tube mill, which is relatively small & uses lower grade technology.
Technology
The technology used here is totally electronic using a dedicated controller & servo drive with precision ball screw. The advantage of a flying shear is that the line does not have to stop to cut & it does not require a looping pit as used with a roll feed device. Space saving is also a consideration.
In essence a flying shear detects the line speed & theoretical position of the cut & then accelerates to the cut position whilst the material is moving & cuts it on the fly. Surprisingly enough with all the electronic & mechanical components talking to each other the accuracy of cut is +/- 0.25mm, that is about 0.1% of the average sheet length.
This cut to length line with its flying shear can decoil, measure & cut coil up to 8mm thick. The range of the cut to length line is from 0.9mm to 8.0mm x variable width up to 1850mm wide depending on thickness & material yield.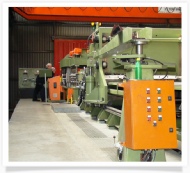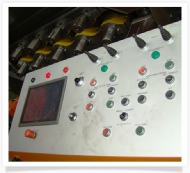 Rapid Project Start up & Retained High Level Production
AP Design builds long term relationships and strategies so that our clients can benefit from rapid project start up and retained high level production.
For more information on our design and building of machinery please contact us.
contact us here
A Unique Design Approach
Graham Pike technical manager of AP DESIGN says this machine was built for less than 30% of comparable machines coming out of Europe & that includes the design & drawings costs.
This has been achieved primarily through a unique design approach where 2 levelers are used to cope with the material range, Graham says this approach is more cost effective than having one leveler which requires 6 high back up rolls, 4 high rolls are used between 2 machines, read more on the subject of leveling & back up rolls at www.apdesign.co.za Cost savings have also been realized through the highly motivated & experienced staff & artisans of AP DESIGN, also one must realize that labour costs are less here than in Europe.
The machine is equipped with an HMI (human machine interface) touch screen that displays a graph of roll positions & roll bend profiles thus making the operators job that much easier.
AP DESIGN 30 Ton Decoiler
Another feature of this machine is the famous AP DESIGN 30 ton decoiler in existence for 10 years, which came about as a need in the industry, The South African steel producer "Mittal" produces coil from a slab, this slab can be from 24 to 30 tons.
Nobody including overseas manufacturers produces such a machine, there are "cone type decoilers" but these are known to damage the coil inner wraps. AP DESIGN's machine uses a conventional hydraulic expanding mandrel in conjunction with a hydraulic support arm & hydraulic coil cart.
The problem facing most would be manufacturers are that the mandrel must cope with coils of 510mm inside diameter where the mechanics & spindle have to cope with 30 tons overhung load. AP DESIGN has overcome this problem; many of these machines have been manufactured over the years.
Mr Martin Flekser managing director of AEROTON STEEL says that his company can now compete with some of the major players in the field in respect to the material range & production volume, he can offer improved flatness of the product throughout the range.
The machine can be operated by one person & a service waiter/helper therefore production costs are reduced.
There has been a long association between AP DESIGN & AEROTON STEEL where previous simple machines have been supplied for the production of sheet from coil: Martin's comment is: these machines owe us nothing. AP DESIGN predicts this machine will set the same precedent.
Having such a machine built in South Africa means that advice & service are close at hand, many people have had bad experiences with expensive technicians from overseas where one not only has to pay the service bill but air tickets & accommodation.
Briefly the set up of the machine is from end to end is 30 ton decoiler & coil cart. Peeler table, set of crack rolls & rewind rolls, pinch rolls, entry/squaring system, leveller 1, leveller 2, telescopic comb guide, flying shear & guillotine, telescopic run out conveyor & air cushion inclined stacker. Main drive is 75kw variable speed.
AP Design continues to produce lower end the market cut to length lines that operate on the stop start & go principal & of course special purpose machines.

READ MORE ABOUT US